Phantassie Boxes
Basics Box - £9.00 Potatoes, Carrots, Onions + 3 or 4 other items, plus £2.50 delivery charge or add a fruit bag for free delivery.
Standard Vegbox - £13.50 Yes you do get some staples and you also get variety. We try to partner veg for cooking or add appropriate seasonings, you always get something to eat raw and nearly always some fresh green leaf. Usually includes 1kg NEW potatoes in April and May, 600g carrots and 400g onions plus salad veg and a selection of seasonal cooking veg.
No Potatoes with Fruit - £16.50 As above, but without potatoes, and with a portion of fruit @ £4.50 (a selection from apples, bananas, oranges, kiwis and pears). Good also for big tattie eaters who keep a sack in the house.
Medium Vegbox - £17.50 Preference for UK produce whenever possible and offers fantastic value. Larger amounts + greater variety.
Large Vegbox - £22.50 Offers the best of the week in family size amounts. Should cover all the Veg bases.
Family Value box - £31.50 Large Veg box + Medium Fruit bag + 6 Organic eggs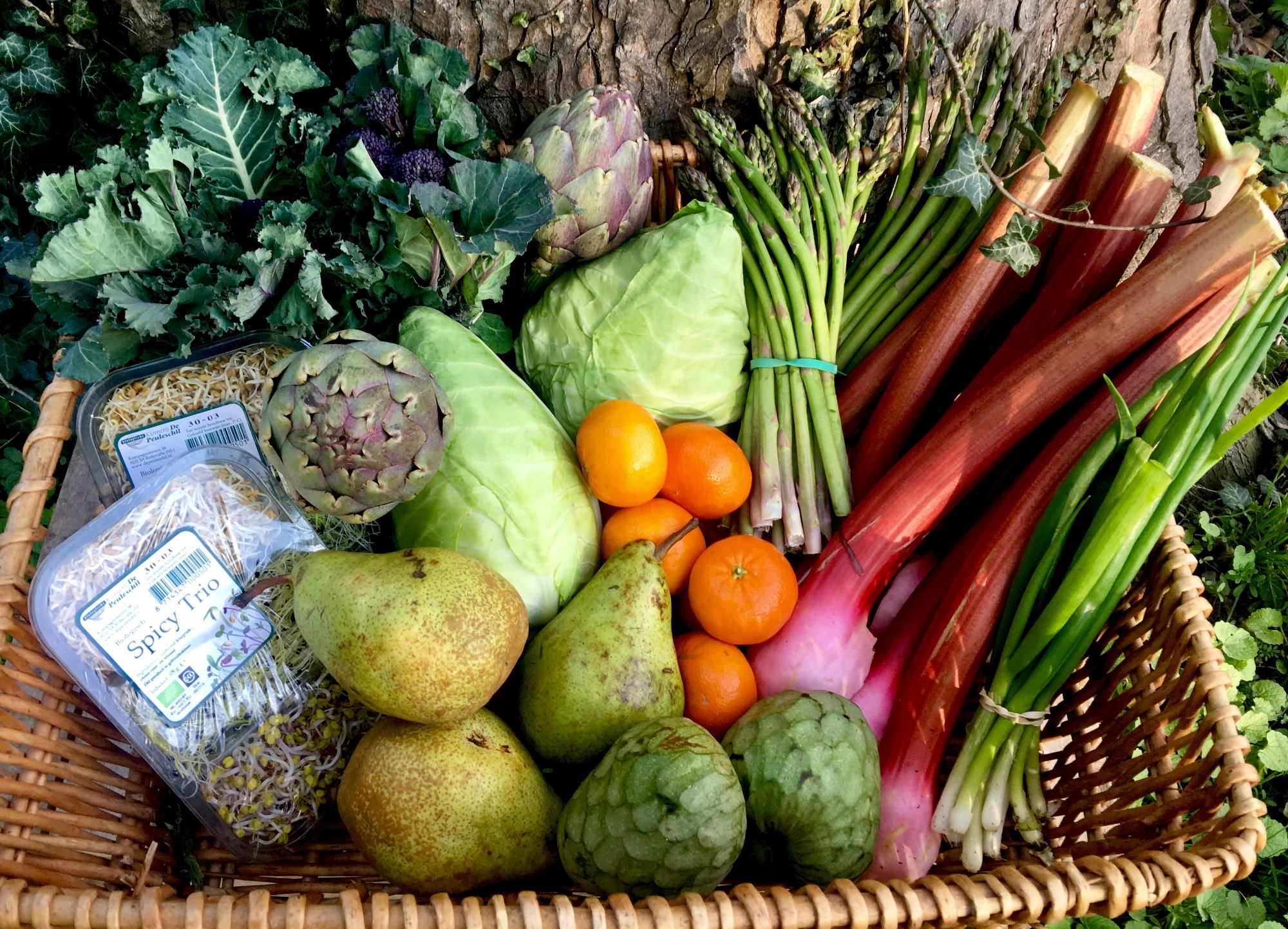 Extras - Fruit, Eggs and other boxes
We source our fruit from the organic wholesale market. In the summer months soft fruit options are available (including our own).
Small Fruit bag - £4.50 - for a selection from apples, fair trade bananas, oranges, kiwis and pears
Medium Fruit bag - £7.50 - as small + seasonal extras
Large Fruit bag - £12 - as Medium + tropical extras
Citrus Box - £10 - for a selection of Citrus fruit
Tropical Fruit box - £10 - for a selection of Tropical Fruit
Apples & Pears - £6.50 - for 1.5kg
Eggs come from a partner Certified Organic farm in Midlothian:
1/2 dozen Medium £2.20, 1/2 dozen Large £2.45
Add on boxes
Salad Box - £7.50 - a selection of Salad items always including leaf
Mediterranean box - £7.50 - a selection from Aubergines, Courgettes, Red Onion, Peppers, Cooking tomatoes & Herbs. Good for Roasting or Ratatouille!
Cook's Seasoning bag - £3.50 - Garlic, Ginger, Chilli, Lime & Lemon
See Order form for more details by clicking on the BUTTON below
Click on the Box Scheme menu tab at top of this page for more info or to request your first delivery, please click New Customers Button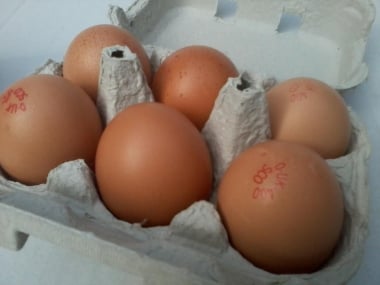 Collection points - as an alternative to home or work delivery.
Bambu Stall - Edinburgh, Out of the Blue, DRILL HALL 36 Dalmeny St THURSDAYS 3-6pm
East Pizzas - Edinburgh, 7 Commercial Street, EH6 6JA Thurs 5pm - 8pm
Mint Fig - MUSSELBURGH, 66 High St, EH21 7BX - SATURDAYs 10am - 4pm
Lewis & Clarke - GIFFORD, 2a Main St, EH41 4QH - SATURDAYs 10am - 4pm
Riverside Bakehouse ABBEY ST BATHANS, TD11 3TX SATURDAYs 10am - 3pm
Jarvis Pickle Store - EYEMOUTH TD14 5LQ - THURSDAYs till 5pm
Boxes can also be collected direct from the farm by prior arrangement