Phantassie Organic Veg Boxes
Basics Vegbox - £10.00 Potatoes, Carrots, Onions + 4 or 5 other items. Add in a fruit bag for free delivery.
Small Vegbox - £15.00 Staples mixed with variety. We try to partner veg for cooking or add appropriate seasonings, you always get something to eat raw and nearly always fresh green leaf. Includes potatoes, carrots & onions plus a selection of seasonal cooking veg.
Small Veg box (No Potatoes) plus Fruit - £18.50 As above, but without potatoes, and with a portion of fruit @ £5.00 (a selection from apples, bananas, oranges plus another). Good also for big tattie eaters who keep a sack in the house. Just ask!
Medium Vegbox - £19.50 Preference for UK produce whenever possible.
Large Vegbox - £25.00 Offers the best variety of the week. Should cover all the Veg bases.
Value Phantassie box - £34.00 Large Veg box + Medium Fruit bag + 6 Organic eggs.
Juice Box - £19.50 for Green Juice.
Prefer to select your own box contents? Why not use our Bespoke Service. Please email for more info.
We source our fruit from the organic wholesale market. In the summer months soft fruit options are available (including our own).
Small Fruit bag - £5 For a seasonal selection from Apples, fair trade Bananas, Oranges, Kiwis or Pears, depending on availability.
Medium Fruit bag - £8 As small + seasonal extras
Large Fruit bag - £13.50 As Medium + tropical extras
Apples & Pears - £7 For 1.65kg mix UK Eaters
Citrus Box - £10 Oranges, grapefruit, lemon and other Citrus fruit when available.
Tropical Fruit box - £10 - A selection from mango, pineapple, limes, banana, kiwi, melon or papaya, according to seasonal availability.
Eggs come from a partner Certified Organic farm in Midlothian: 1/2 dozen Medium £2.25, 1/2 dozen Large £2.45
Mungoswells Organic Flour from East Lothian: £3.90 for 1.5 kg Bags - Plain, Strong White Bread & Strong Wholemeal Bread.
Salad Box - £7.50 - a selection of Salad items always including leaf
Large Salad Box - £17.50 - larger portion sizes and variety
Mediterranean box - £7.50 - a selection from Aubergines, Courgettes, Peppers, Cooking tomatoes & Herbs. Good for Roasting or Ratatouille
Family Mediterranean box - £17.50 - larger portion sizes and variety
Cook's Seasoning bag - £4.00 - Garlic, Ginger, Chilli, Lime & Lemon
To request your first delivery, please click on the button to the right.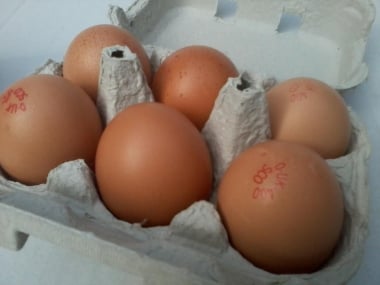 COLLECTION POINT - as an alternative to home delivery.
BASIL Saturday shop Located left of Bostock Bakery on Dunbar Rd Saturdays 10am - 1pm EAST LINTON EH40 3DE